Assistive Technology Try Out Sessions
Exploring different types of assistive technology and software.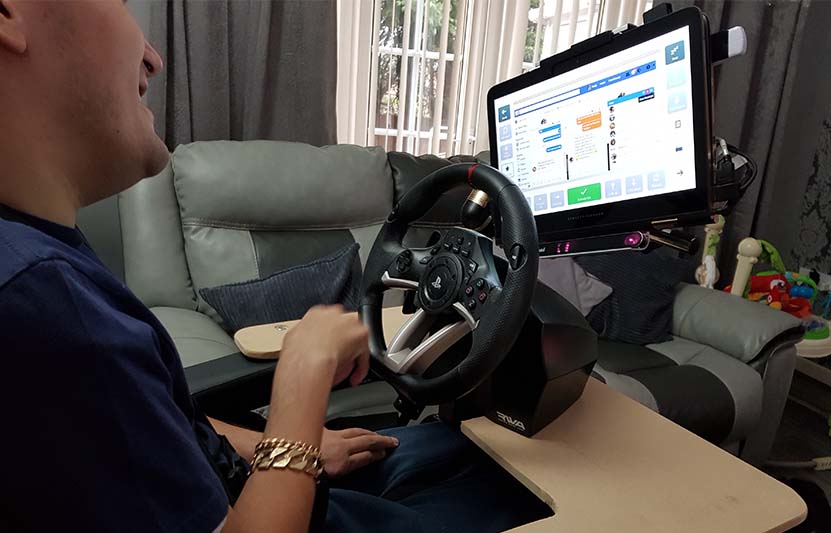 Unlike everyday technology such as laptops, cameras and televisions, many types of assistive technology for disabled people aren't available to browse in high street stores.
That's the motivation for our assistive technology try out sessions: we bring the equipment to you, so you can try before you buy. These sessions will broaden your awareness and understanding of the types of assistive technology available. You'll also get the chance to assess the benefits assistive technology can bring to your everyday life, including increased independence, clearer communication and more opportunities for entertainment and leisure.
All the equipment and software in our portfolio has proven applications for users with various disabilities, from motor difficulties to cognitive disability to everything in between.
Types Of Assistive Technology We Provide
A specially mounted screen that can be positioned to suit a user whether in a wheelchair or lying on a bed. (Suitable clearance beneath the bed is required.)
Gaming computer
Games consoles
We'll bring along games suited to your tastes and abilities.
Alternative game console controllers
Some disabled people won't be able to use a standard controller. That's where our adapted console gaming set ups come in.
With the right software installed, IPads and Laptops are crucial tools for education, entertainment, communication and leisure.
These can be set up in different positions for optimum control.
Alternative mouse and keyboards
Voice recognition tools
Finding different ways to control technology and establish independence.
SoundBeam music and sound generator
Turning physical movements into sounds and music.
Facilitating play and entertainment.
Communication and environmental control software
Find out more about how can help with communication for disabled people with our communication aid services.