Assistive Technology Assessment Services
In-home or on-site assessments with recommendations from an AT specialist.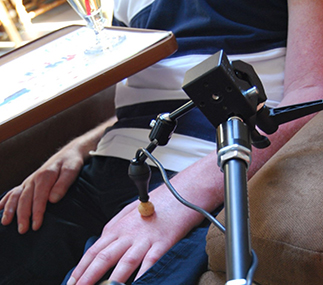 Are you interested in discovering how assistive technology can help you become more independent? Perhaps you're a disabled person looking for an assistive technology service to help you achieve your personal goals. Are you an education or care provider looking to install inclusive, accessible technology in the classroom, home or workplace?
Sensation CTS can help. We provide assessment services to disabled people and the people who support them throughout the UK. For many disabled adults and children, an assistive technology assessment with us has begun the life-changing process of overcoming their disability with technology. By taking a practical approach to assessment, we'll help you identify the technology and software that's best suited to your individual needs.
During your assessment, you'll have the opportunity to interact with our ever-expanding portfolio of assistive technology and software. Some examples include:
Bespoke switches
Communication aids
Adapted gaming controls
Head trackers
Eye gaze devices
Voice recognition tools
Sound beam
Computers, games and iPads
Our follow-up report will identify appropriate strategies to implement going forward, whether that's integrating assistive technology in a school or work environment, or in the home. Our report will include the following information:
Details of each interaction
Assessment findings
Recommendations in relation to equipment, strategies, training and re-referral if appropriate
Details of relevant equipment, pricing, replacement periods and expected outcomes
Assistive technology is not one-size-fits-all, and many of our clients need bespoke set-ups and mounts to interact with technology depending on whether they are standing, sitting or lying down. Following assessment, we can recommend and build individualised set-ups to help maximise the benefits of assistive technology within your available space.
The timing, length and format of any assessment considers the needs, preferences, aspirations and existing skills of the individual, and is structured to ensure that the disabled person can participate to their full potential. The number of assessment sessions required to identify a suitable assistive technology system will of course vary depending on a person's individual needs and abilities.
By prioritising user experience, we ensure that our assistive technology assessments are engaging and entertaining as well as extremely informative. Book an assessment with Sensation CTS to discover the life-changing effects of assistive technology.