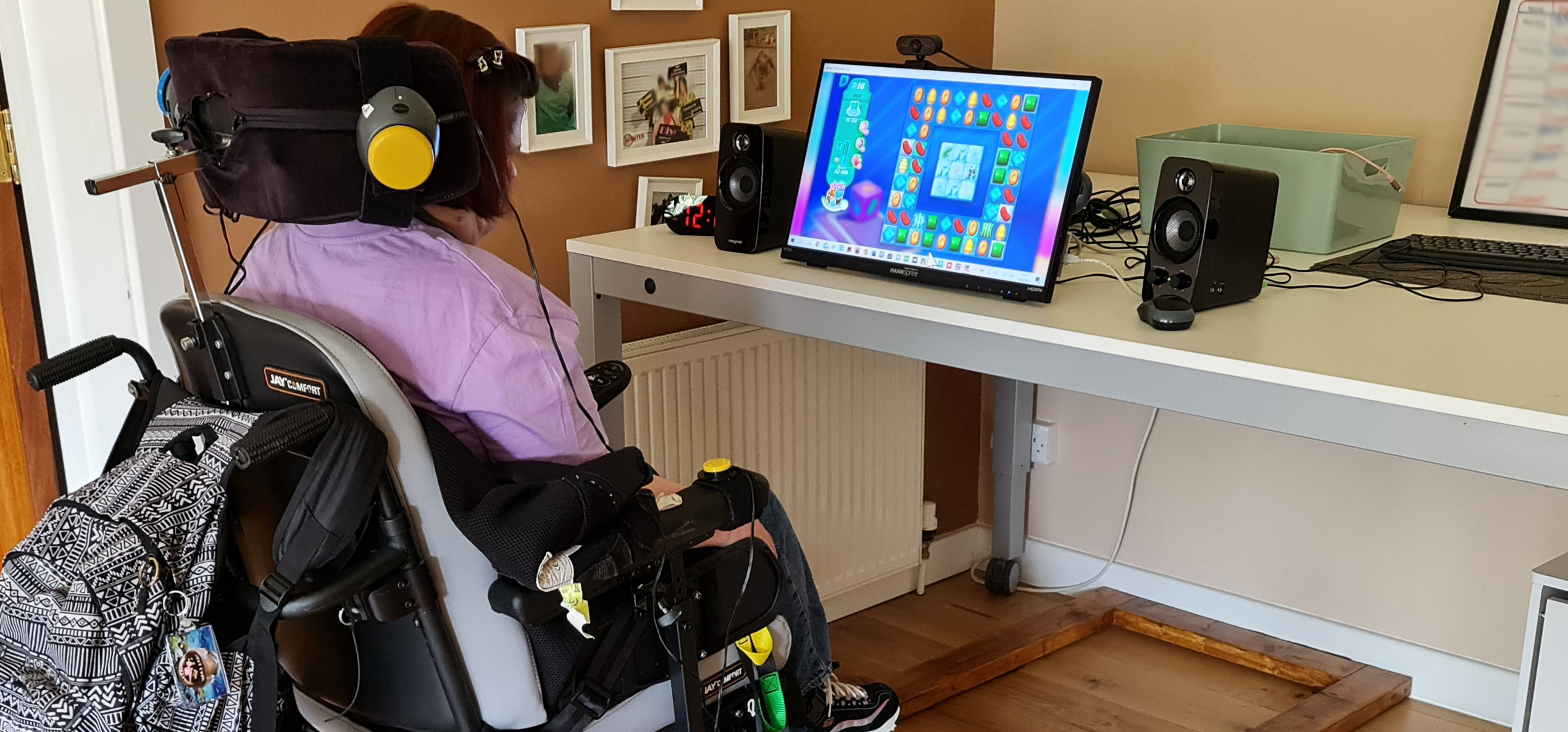 Case Study
Helping Donna Play Candy Crush With Bespoke Assistive Technology
Although my goal is similar with each person I work with, helping them to access independence with technology; I'm often adapting my strategies and equipment based on the individual needs and wants of my clients. I am fortunate to be able to spend time developing solutions with clients based on a number of factors, including their mobility, the space they have available and their personal goals and desired achievements.
For example, this case study focuses on my initial visits to Donna, who's goal was to be able to play Candy Crush and other games without requiring help from her support staff.
Initial Meeting
Donna heard about my services through word of mouth. Her handyman had fitted my front door, and after chatting a bit about what I do, he introduced us.
On our first meeting, Donna's access to technology consisted of the limited touch of a Samsung Galaxy Tablet. We discussed her hobbies and interests, including Candy Crush and how I could help make gaming more accessible to her.
As anyone who has played games like Candy Crush on a tablet will know, it involves precise tapping and swiping of the screen. This can be difficult for Donna, as she doesn't have consistent control over her movements. Because of this, plus the impractical position of her tablet on her table, she frequently required assistance from her support worker to play Candy Crush and other games she enjoys.
Accessing Independence Using Technology
I bring a range of equipment with me to every client meeting, so I was able to help Donna straight away. I put a Windows computer on her table and mounted one of my joysticks to the side of her existing wheelchair joystick, instantly giving her more control of the on-screen mouse pointer. This was the beginning of a transformation in Donna's ability to pursue her interests independently using bespoke technology.
Gaining Independence
I left the Windows computer and joystick set-up with Donna to trial for a week, and by my next visit she'd decided she would like her own computer and joystick, because it gave her much more independence than her old tablet set-up had.
However, I discovered that a problem with the joystick had quickly developed.
The Problem
In my initial visit I had attached a Manfrotto clamp and positioning arm to Donna's desk to mount her joystick to. Like many of the people with disabilities I help to use assistive technology, Donna can be unintentionally forceful when using equipment due to an inability to consistently control her movements. We realised that the extra force to the joystick had caused the mount to become loose.
Plus, there was a secondary issue: the clamp's loosening had damaged Donna's table. Although my priority was to help Donna to gain her independence as a gamer, this shouldn't be at the expense of her furniture!
I was aware of the risk to the desk on my initial visit, and of course warned Donna about the possibility of damage. Fortunately, she was in the process of replacing it and didn't mind the risk.
For other clients who aren't planning to replace furniture, I have been able to build them solutions to initially attach mounts to while they trial them.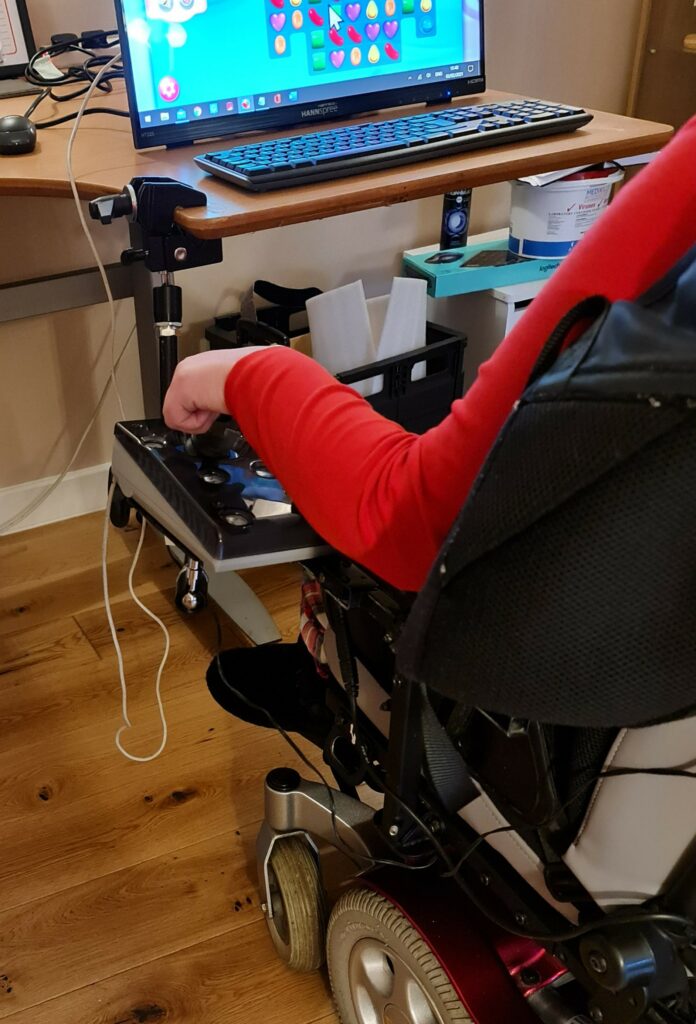 Brain-storming Potential Solutions
One potential solution – to clamp the Manfrotto arm to her wheelchair – would have provided more stability. However, I discounted this strategy because it would have required someone to help Donna attach or remove the joystick after each use. Keeping it attached to the wheelchair is not an option, as it would restrict her ability to move around her house and pass through doors safely. With a table mounted joystick, Donna can drive her wheelchair up to her gaming station. The independence this allows her means she can play games whenever she feels like it, without relying on other people – something that so many of us are fortunate enough to take for granted.
I think back to a previous fix for another client, when I bolted a wooden mount to their table, which I then attached a joystick to. However, solutions to an individual's accessibility needs can vary significantly depending on the person's specific requirements. In Donna's case, she'll be using her new table for gaming, but also for other purposes like family meals. The table needs to be versatile, so this solution was also out of the question.
I could have attached the mount to Donna's wall – but – understandably, Donna didn't want to look at an unsightly, bulky mount protruding from the wall of her main living space. And nor should she have to!
My Solution
My solution was to design and construct a bespoke floor-standing mount from timber, with a flat surface at the same height as Donna's wheelchair. With the joystick attached to this mount, it forms a gaming station that Donna is able to pull up alongside and independently take control of her computer.
To solve the problem of stability, I attached the mounting block to a wide wooden base that Donna can drive her wheelchair onto, weighing down the entire structure. Thus, the mount and joystick are kept stable, no matter how much force Donna uses on the joystick.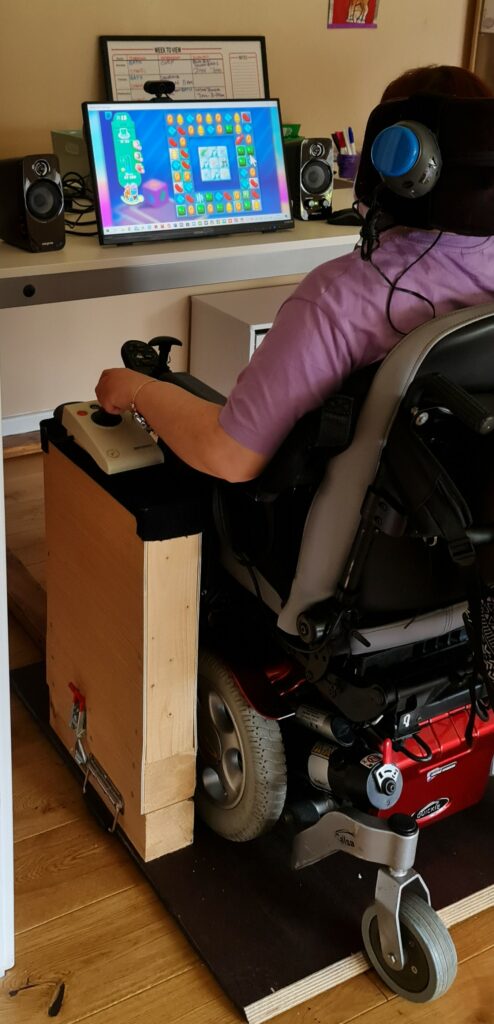 Donna's Independent Lifestyle Using Assistive Technology
Alongside independent access to technology, it was essential to Donna's lifestyle that her living space remain multi-functional. This meant building in a hinged base, allowing the mount to fold down easily and be moved to her storeroom, for example when she's hosting one of her frequent family gatherings.
As a result of my accessible technology assistance, and adaptions and adjustments I've made throughout my visits to Donna, she now has full, independent access to her Windows computer. She is enjoying all the benefits this brings that were previously inaccessible to her, including playing Candy Crush without assistance from her support staff.
I use assistive technology together with my own experience and ingenuity to improve the independence of people like Donna, who live with disabilities.
Keep up to date with my blog to read updates on my work with Donna and other clients.