Case Study
Using Communication Aid Technology To Communicate With MND.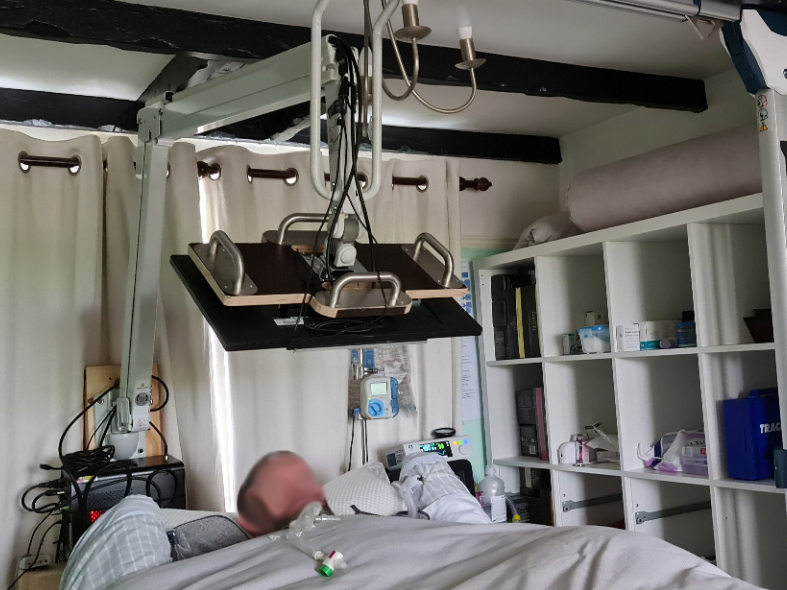 Using Assistive Technology To Communicate
David has lived with Motor Neuron Disease (MND) for a number of years. Since his diagnosis he has learned to use a variety of assistive technology to maintain his ability to use his computer for a number of purposes, including to communicate with those around him. Being able to indicate our wants and needs to others is the foundation of our independence, and people living with MND lose this ability all too often. With the help of assistive technology, there's no reason a person with MND can't continue to communicate effectively with those around them.
I was invited to look over David's current technical set-up, with the aim of maintaining and potentially expanding the benefits he enjoys from using voice output communication.
Meeting David
MND causes a person's muscles to deteriorate over time, leading to increasingly restricted movement. When I first met David he was unable to move any part of his body below his neck beyond small twitches of his toes. Being bed-ridden and non-verbal, David's ability to communicate consisted of blinking in response to yes or no questions, and using his portable communication aid with eye-gaze control.
David's communication machine runs Grid 3 software – he uses his eyes to select cells containing letters, words or actions. The device then verbalises these selections for him.
The Problem
David explained to me that his communication aid's bulky floor mount was often knocked accidently by his support staff as they moved around in the small space by his bedside.
In addition to the mount and its charging wire presenting a dangerous trip hazard to David's support staff, it also provided a constant obstacle to David's ability to communicate. Even minimal displacement of the device interrupted the accuracy with which it could track David's eye movements. Since David uses his eyes to choose his words, the following process of explaining to his staff how to maneuver the device back to the optimal position was painstakingly frustrating.
To most people this would be an annoyance, but for David, it was a serious obstruction to his quality of life. He confided to me how his anxiety levels would spike any time anyone approached him on that side of the bed. He is, after all, completely reliant on his device to express himself, access the internet and for entertainment.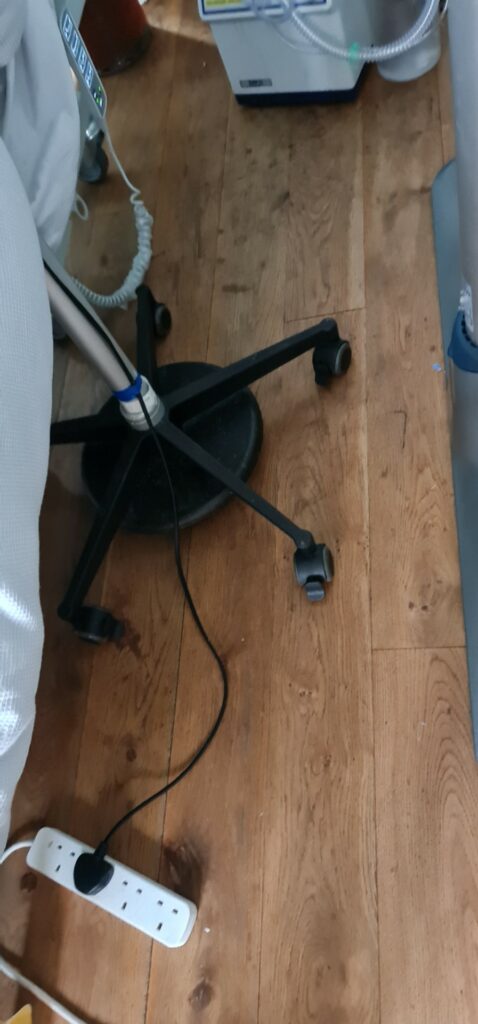 In my consultation with David, it was clear to me that it wasn't just the device's physical set-up that needed to change. David explained that the communication aid did not perform reliably. Issues with the low-specification computer included lengthy start-up and shut-down times. Device slowdowns and crashes infringed on his ability to use his voice output device, as well as restricting more general use such as emailing and accessing the internet.
Unable to communicate without his aid, David would often have to wait some time for his support staff to notice the issue. Once someone did become aware, David was reliant on their technical aptitude to be able to confidently fix the problem and reposition the device for David's use. Such trials often left David feeling fatigued and/or failing to complete whatever he had been concentrating on before problems arose.
Communication Aids: A Plethora Of Benefits
David's issues stemmed from unsuitable equipment, but using communication aid technology doesn't have to be a frustrating experience for the user or their carers. For non-verbal individuals, the use of effective assistive technology to meet their communication needs can have a plethora of benefits. These include:
Increasing independence
Improving mental health
Facilitating accurate expression of the person's needs, wants, thoughts and opinions
Building relationships
Advancing technological skill
Developing transferable skills which can be implemented in many aspects of life, including work, education and entertainment.
My Proposed Solution
After a thorough conversation with David covering his most pressing needs, I proposed a wall-mounted solution, positioning the eye gaze controlled screen above David's bed, eliminating the need for the bulky mount.
I also suggested trialling a larger screen to see if we could resolve his difficulties in achieving the optimal position for tracking his eye movements.
Drawing on my years of experience with communication aid devices, I deducted that despite its technical specification as a computer, the performance of David's communication aid could not be improved upon.
As a result of my personal approach to consultations with my clients, I am able to provide solutions based on a knowledgeable assessment of their individual needs. In David's case, we agreed that since he doesn't require a portable device for use in his bed, I would set up a higher specification computer for him to control using eye gaze via the larger, wall mounted screen.
Implementation
As with all my clients, I like to implement solutions straight away that they can then trial, before committing to a permanent change. I quickly got to work, assembling and installing my recommended combination of new tech. I purchased a long-armed wall mount typically found holding small televisions alongside patients' beds in hospital wards with the intention of using it to suspend David's new, eye gaze operated computer monitor. The plan was to fix it to one side of the head of David's bed, however, on receiving the mount I discovered that for the monitor to be positioned correctly for use with eye gaze, it had to be fitted to a wall directly behind David's head, otherwise the required position and angle could not be achieved.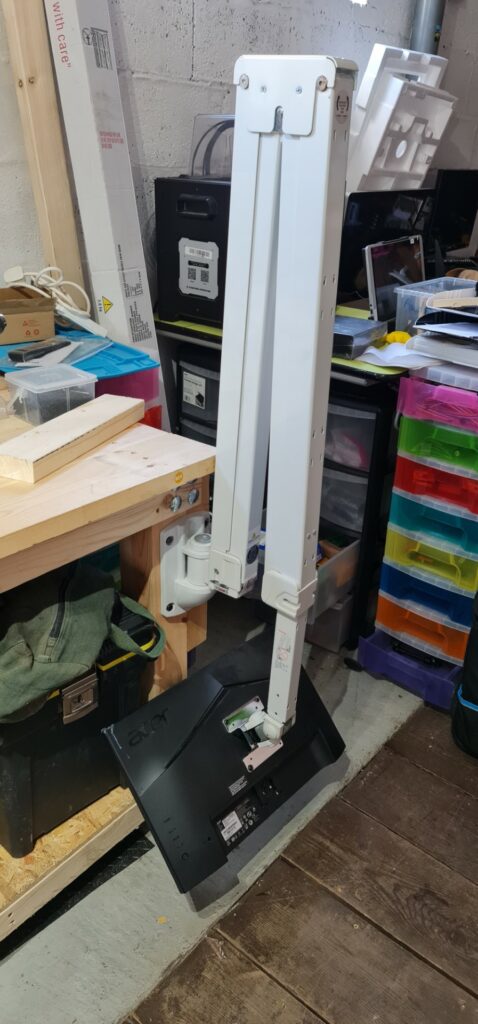 The hospital-grade wall mount I purchased needed some improvements.
Space-saving, Practical Solutions
The inflexibility of the mount was problematic, because a window behind David's bed meant it couldn't be fixed to the wall in the optimal position. There was also no way to reposition his bed in the small room.
Luckily, I am experienced in setting up assistive technology in small spaces, and I overcame this issue by constructing a bespoke brace from 4×4 inch timber. Once secured to the wall below the window, it provided a suitable anchor point for the hospital mount over David's chest – the optimal position for his eye gaze use.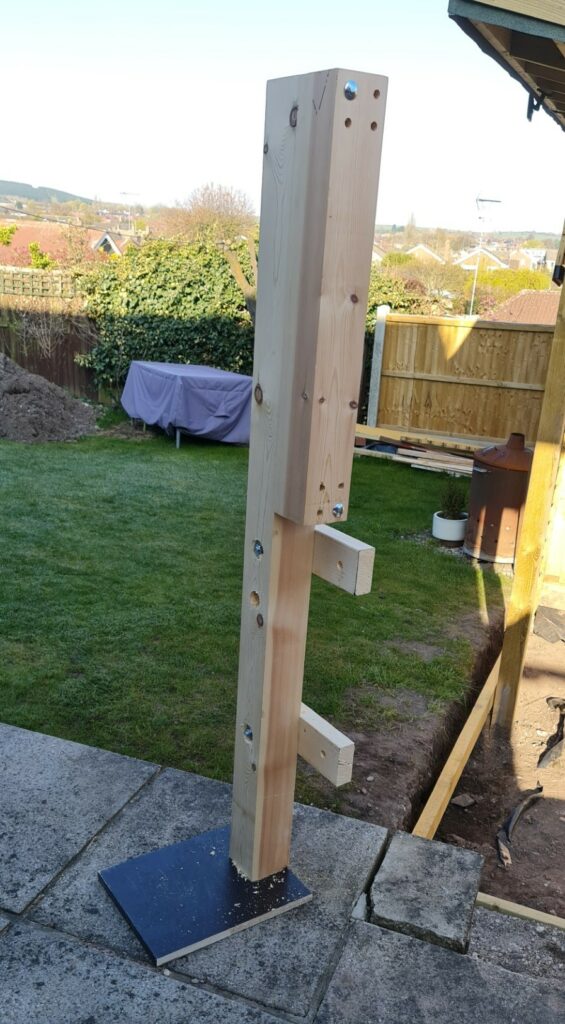 I placed David's new high-spec computer at the base of the bespoke brace, threading a HDMI cable between computer and monitor and connecting up a Tobii PC Eye Plus using two high speed USB extension cables.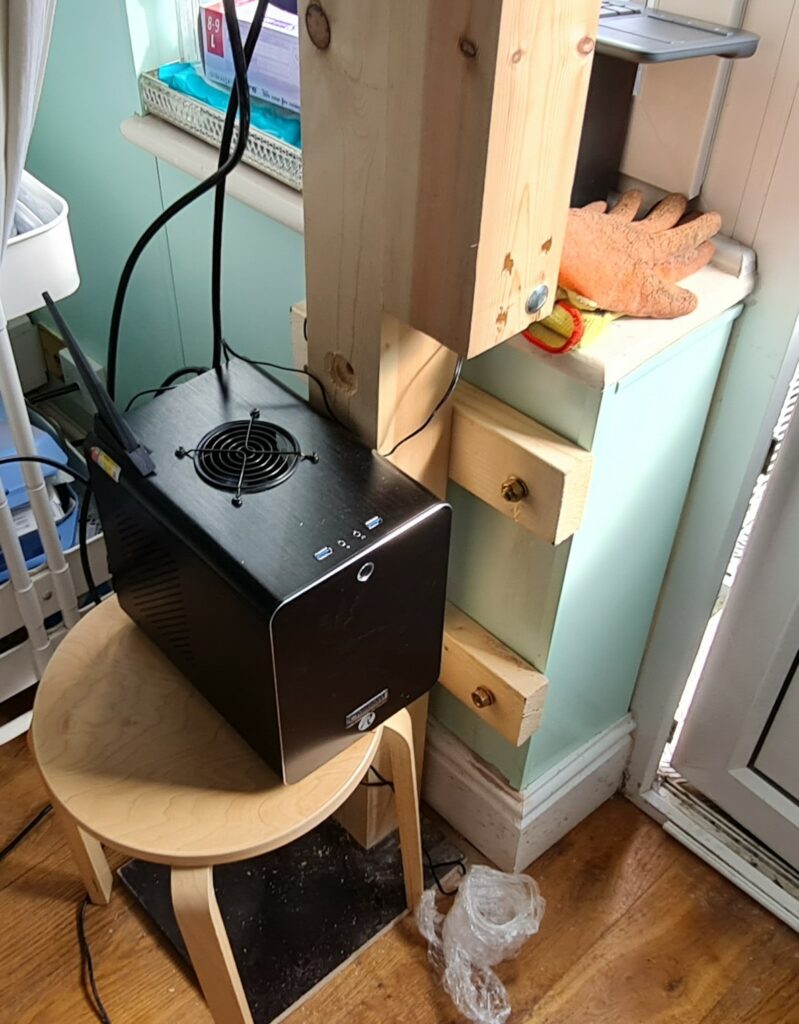 Immediate Improvements
With David's personalised Grid 3 grid-sets copied from his communication aid to his new computer and the monitor suspended in what appeared to be a good position in front of his face, he was immediately able to calibrate and operate his communication pages and speak through a pair of high quality speakers placed at the head of his bed.
The wall-mounted arm provides a vastly improved range and ease of movement, which enables David's support staff to reposition the screen much more easily at David's instruction. Not only does his new set up allow him to communicate smoothly, David can now use his high specification computer to take control of his daily life. Whether he's binge-watching a Netflix show, answering emails, or undertaking general life admin, he can get on with it without frustrating performance issues.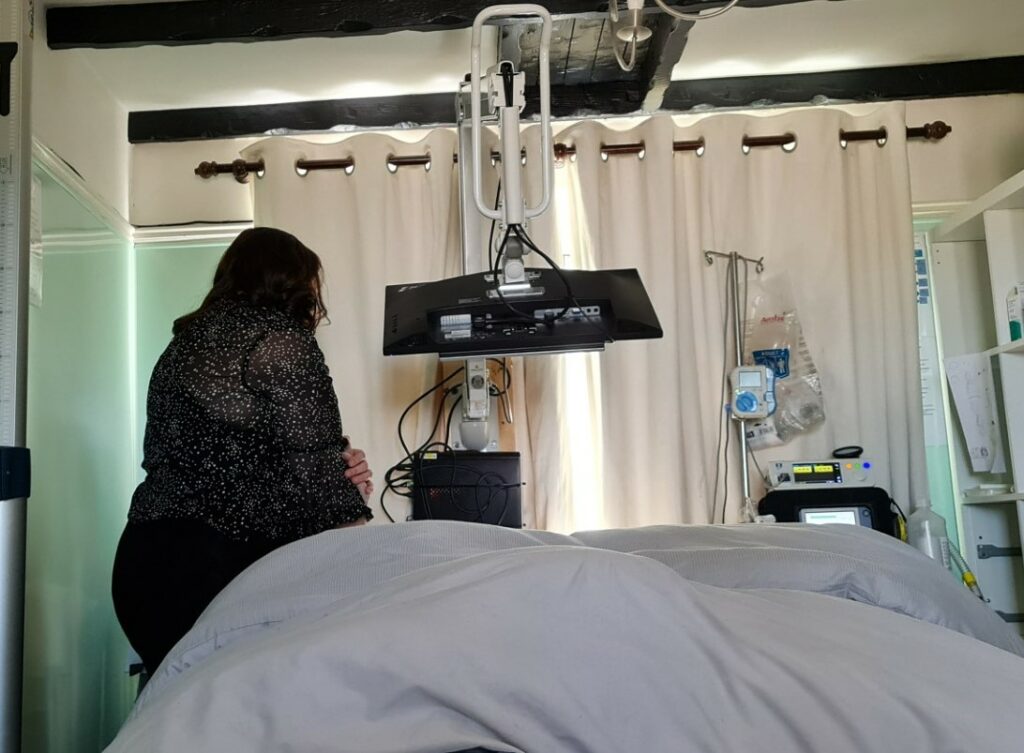 Regaining His Voice
An unforeseen benefit to the improvements I implicated was David's ability to call for help from his care team at times when they were absent from his room. He can now make himself heard from the adjoining room by using his eyes to turn up the volume on the computer's speakers.
David has regained his voice, and with it his independence.
As is my practice, my initial arrangement with David was to loan him my equipment, leaving it in place for a 14-day trial period, following which I'd return to collect it and to discuss long-term communication solutions. However, following this first use, David decided immediately that he wanted me to leave the bespoke wall-mounted, and put in place his own computer, screen, eye gaze tracker and speakers, replacing his previous communication aid set up.
Continued Assistive Technology Support
In David's case, I was able to use my own versatile inventory of equipment, plus my unique experience in setting up assistive technology in challenging spaces, to provide a trial of communication aid technology which ultimately improves David's quality of life and allows him to communicate effectively with those around him despite his MND.
I will continue to support David in the purchasing and setting up of his own equipment, and any other assistive technology he may need in the future.
Get In Touch With Sensation CTS
Thanks for reading. If you have questions about any of the communication aid technology in this case study, or would like to discuss what I might be able to do to help you or someone you know, I'd love to hear from you.